Issues Facing Santee
Effective and Actionable
As an experienced leader accountable for her own decisions, work, and results, Laura has decades of measurable productivity and effectiveness in the workforce and community.
She is a visionary, connector and doer.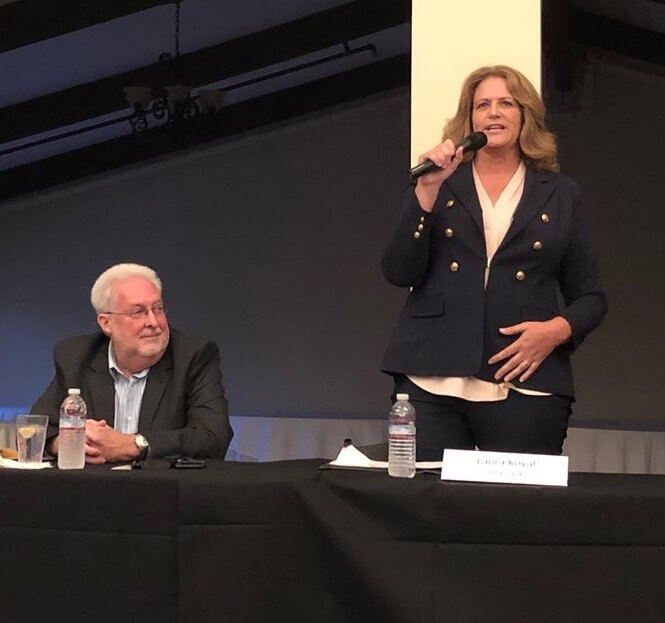 Fix The 52
There are approximately 200K residents employed in the Inland/East County region. 145K commute outside the region to work. There are 27K employed in Santee. 94% commute out of Santee to work. The Santee General Plan Protection Initiative on the 2020 ballot does not solve our traffic today and does not stop growth in the Inland/East County region. I am committed to a REAL fix to traffic congestion.
The immediate need for more lanes on SR52 will not be addressed by SANDAG for another 30 years. As an original stakeholder and investor in the Mayor's Highway 52 Coalition, I am part of the group that has hired federal lobbyists to help secure funding for REAL traffic relief projects.
You do not need to live in Santee to join the coalition and be part of the solution.
Read more about the Highway 52 Coalition HERE.
Budget Shortfalls
An immediate concern is the city's looming $800,000 budget deficit next year that is estimated to reach almost $7M over the next 5 years. I am the only candidate with professional experience to help solve the city's financial shortfalls, without jumping to raising taxes as a first resort. As a business professional with 30 years of experience, I have a proven track record of growing business, generating revenue, and providing jobs in the nonprofit, public and private sectors. Because this council seat is only a 2-year term, the budget will be a top priority for me.
A voice for Santee seniors
I have spent a lot of time listening to our seniors about their concerns and will be a strong and persuasive voice for them when I am on council. Their transportation concerns center around things like getting to and from doctor's appointment, social outings and the store. Like all citizens, they want to feel safe in the community. They also would like a community center.
I was the first candidate with ideas and funding mechanisms for new transportation options for seniors, am the only candidate endorsed by the Deputy Sheriffs Association and Santee Firefighters, the only candidate with experience running a community center (Santee Boys and Girls Club), and the only candidate that has been actively involved in the process to bring a community services center to Santee.
Development & Santee Businesses
I am concerned about the impact any development has on our city, including Fanita Ranch. I believe the Santee General Plan Initiative on the 2020 ballot will give the people of Santee the opportunity to decide that particular project's future. Frankly, residential development will not be a primary focus during my 2-year term. As stated before, a top priority is the budget.
There is not a lot of room for new development in Santee. Development that seeks to grow the local economy from within will bring new wealth to our region in the form of jobs, increased revenues, and vibrant local business/entertainment sectors. We must attract businesses that provide high-wage jobs to increase our tax base. We must also remove barriers and streamline processes for our established local businesses, should they wish to modernize.
To accomplish this at the council level, we need someone with experience. I have been an active member in the East County and Santee Chambers of Commerce for several years. I encourage and promote community involvement by engaging with strong business leaders. In fact, I was a member of the team that created the first ever East County Strategic Summit. To find out more about this sold out event, click here.
High Energy Costs
All of us want real rate relief to high energy costs, but there are still many unanswered questions about government run CCAs.  We want more than a possible 5% savings off our energy bill.
I favor free market principles. If a CCA can provide real rate relief for all of us, then it should be explored as an alternate.
Laura Koval for Santee City Council District 3
9625 Mission Gorge Road STE B2 Box 102
Santee, CA  92071